It was at the end of one of those long-tough 100 degree summer days. The sun now sinking in the west, turning the sky Auburn orange, and taking with it the heat of the day. With the moon now rising and evening meds done, all dogs checked on and tucked in for the night, it was time to call an end to another tough day, or so we thought. The sound of screeching tires brought an end to thoughts of soon needed rest, along with the sight of 3 little black puppies, running around in fear along the back side of our property. They had just been put over our fence.
Larry & I looked at each other, and do what we always do, we got a crate, gathered them up (it was easy as they were very hungry) and made them a space in Buddy's Barn, soft bed, food and water. Next day they got their shots, worming and lots of love, hugs and kisses. Little Ripple, Rocky & Ryder have turned out to be such special little pups. Growing like weeds and in the end would rather spend time snuggling with their rescuers than playing with their toys.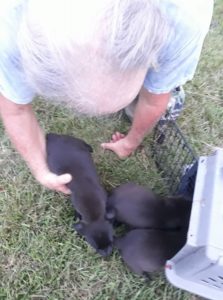 We'd like to thank you, dear friend, for helping us along.  It is because of you, that on a moments notice, we are able to help little pups like Ripple, Rocky & Ryder, three siblings without a chance in the world.
Thank you for your love, support and prayers for Rescue K911. 
Thank you for helping the homeless,
Larry & Loraine & all the little ones of Rescue K911.
(these precious pups have been adopted and will leaving us next Friday to go to their new homes)