October 1
Hi Everybody! Just a little pup named Moses here, coming your way to tell you my story. It's not a very long story as I am only about 10 weeks old, but I feel as if I am the luckiest pup in the world and needed to share.
I don't remember too much of the beginning of my life, but I must of had a Mama who loved me and I had several brothers and sisters. But something went wrong as my brothers and sisters and I were not wanted, and sadly abandoned at a boat dock along the Tallapoosa River. We did our best to find food and to stay safe but it was scary.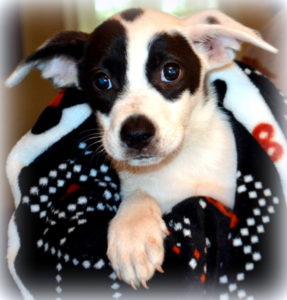 One day someone picked me up and I thought maybe they wanted me and we were going to my new home. But I was taken to the top of the bridge and thrown over and into the river below. I was so scared and fighting for my life. A kind fisherman close by saw what happened and jumped in the water to save me. I was crying so hard and in pain. Not knowing what to do with me, they contacted Rescue K911 to help me and get me the care that I needed. So that is how I came to Rescue K911.
I love it here, lots of dogs here to make me feel welcome. I went to the doctor where they took lots of pictures of my bones. They said I have a broken shoulder and a dislocated leg. That sounds bad. I am too little for any pain meds so I have to be quiet and am on bed rest for healing. But bed rest for me is very hard as I am just a puppy. The first night I cried and then howled so loud in my crate, keeping everyone awake, that Mr. Larry came and got me. My plan worked, for now I sleep with Mr. Larry every night, right in my own little spot. In the morning I am hungry, so I go and find Ms. Loraine, and with my big brown eyes it's not long before I have a real nice breakfast. Then I take a little nap in her arms. I am in heaven.
But it looks like I am going to need surgery on my shoulder. I know Mr. Larry and Ms. Loraine would never want to ask for anymore assistance but I know they sure do need it. If you can help Rescue K911 at this time with financial assistance for vet bills, or supplies, I know they would appreciate it so much.