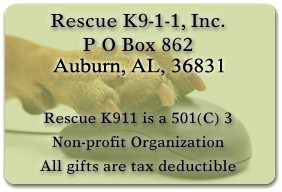 Only with your help is our work with the homeless possible. We depend entirely on donations to fund our rescues, which always include medical care, spaying and neutering as well as necessary vaccinations.
Many of our rescued dogs come into our care with severe medical problems and as a result, vet bills can become overwhelming. All donations go directly to the animals' care and help provide food, shelter and medical treatment. Your loving charitable (& tax deductible) gift gives us the power to be the salvation for abandoned dogs!
As a 501(C)3 non-profit organization, we are desperately in need of your generous donations! Many corporations offer matching gift programs that can double and even triple your gifts to Rescue K911! Be sure to check with your personnel or community affairs office.
Send a check, donate stock, vehicles & more.
You can make a donation and receive a charitable deduction by writing a check to Rescue K911.  Checks can be mailed to PO Box 862, Auburn, AL.  36831-0862
STOCK
By donating Stock you own to Rescue K911 before the end of the year, you can receive tremendous tax benefits.  You will receive a tax deduction for the current market value of the stock on the date of your gift, and avoid paying any gain if the stock has appreciated since you acquired it.
REAL ESTATE
Contributions of Real Estate can benefit our organization tremendously while offering you the tax benefit of avoiding capital gains tax on the appreciation in the value of the property.
BEQUEST
Include Rescue K9-1-1, Inc in your estate plan.  Learn more about Planned Giving opportunities by clicking here.
VEHICLE DONATION
Would you like to donate your vehicle to help the animals of Rescue K911??? You can donate your car, truck, RV, boat, motorcycle, or other vehicle to Rescue K911.
Your donations are tax deductible!
Did you know we have a wish list on Amazon of the items we are always in need of? Please browse our wishlist at: http://www.amazon.com/gp/registry/registry.html?ie=UTF8&id=2K0RUYTP1RITG&type=wishlist
Rescue K911 can always use:
Food Supplies
We are currently in need of dry and canned dog food. (would prefer Purina if possible)
Cleaning Supplies
Laundry Detergent • Bleach • Dish Soap • Paper Towels • Clorox Wipes
Grooming
Professional Grooming Services Needed
Medical
Pill Pockets • Vectra or K9 Advantix Multi
Fun Stuff
Dog Toys • Small Kiddie Pools • Balls
Summertime Care
Small Kiddie Pools
Wintertime Care
Heated Dog Beds • Hay
If if you would like to speak with us about a special donation item or you feel that you have something that we can use, please contact us.
Thank you!